Our Collaborators and project details
First, our concessionary is LA LINEA CITY PORT S.L., which is own up to 50% by MENONA LTD INVESTMENTS and the other 50% by GRAND SPORT DEALER SA. GRAND SPORT DEALER SA is a part of the OLYMPIC CITY group. The project has been thought at the same time that the real state of the Golf resort in the Algarrobo in Algeciras. The same promoters have specially though both projects in other to have the biggest and more powerful synergies for all international clients.
Regarding the concession term, we are the first license in Spain with a very large term. Which is great news ! They have been dealed for 40 years, but it contemplates an automatic renew of 10 years with all the obligations with the port authority. And a legal renew of another 20 years if there is a minimum investment of 20% of the initial investment.
The project management and the addition of new private investors, as well as the management of the project from 2011 to 2016 until the reach of the official license, including the environmental management have been coordinated by JIMENEZ-CASQUET GESTION INTEGRAL DE PROYECTOS SL (JCGIP). In collaboration with Hidtma for the environmental management, and Berenguer ingenieros for the design of the port, as well as the D. Francisco Javier Jiménez de Cisneros in the legal counseling.
JIMENEZ-CASQUET GESTION INTEGRAL DE PROYECTOS SL, is a company specialized in integral project management in Hospitality and marinas. They are in charge of the technical work and management until the start of the port.
This special luxury marina, conceived as a base for mega yachts and cruises in Algeciras, has been thought in collaboration with SF MARINA SYSTEM AB.
Some key updates and milestones :
April 17th 2020, the project was approved by the port authority of the Bay of Algeciras.
The contact for the construction was signed may 14th 2021
The constructors will be SACYR SA
Surface of covered water: 055 m2
Total land surface : 62.173 m2
Number of berths : 80 berths of between 30 and 100 meters in length and 2 berths for cruise ships
Total investment : more than 50 MM€
The commercialization of berths and retail is starting
And something that makes us feel very proud the port authority and the municipality of la Linea have been an incredible support for this project since the beginning, and we thank them for that!
A lot of information, but now you know everything about us!
More news about the marina to come.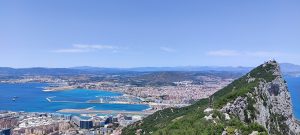 Let us tell you a bit more about the inside of project and all our collaborators!
Read more
An exclusive marina in the south of Spain, 'Gran Marina del Estrecho' will be one of the most modern marinas in the Mediterranean Sea and an exceptional base for superyachts of any length. It will become a favoured destination for Yachts in the Strait of Gibraltar, with first-class amenities. The...
Read more